Ka'ūpūlehu Pua Mural Activities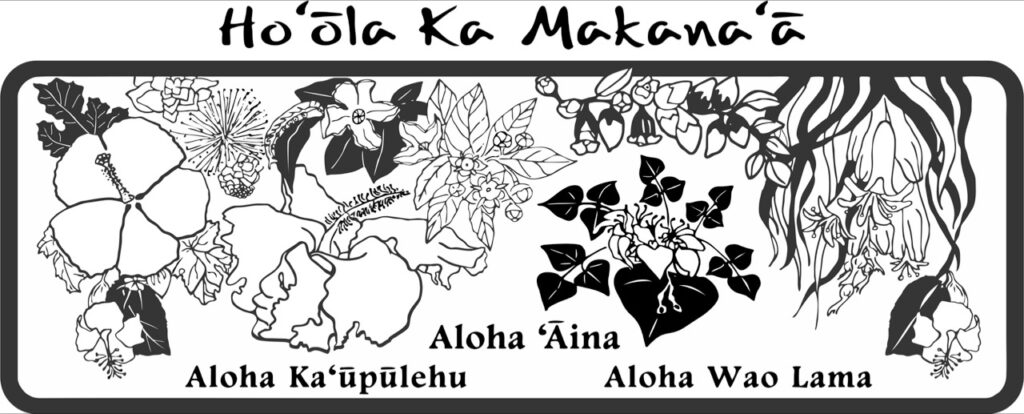 Can you match flower colors and names:
'Aiea, Ēlama, Halapepe, Hau hele 'ula, Kauila, Ko'oloa'ula,
Ma'o hau hele, 'Ōhi'a lehua, Wiliwili
Canvas bags and t-shirt versions to color
design by 'Ōuli Wai Multimedia
New 2023 version mini Pua Mural
available at outreach & Fundraising events
A Mini roll-up 12″x 23″ mini-mural & games for 'ohana learning fun.
while helping to Perpetuate our native ancestor lā'au (plants)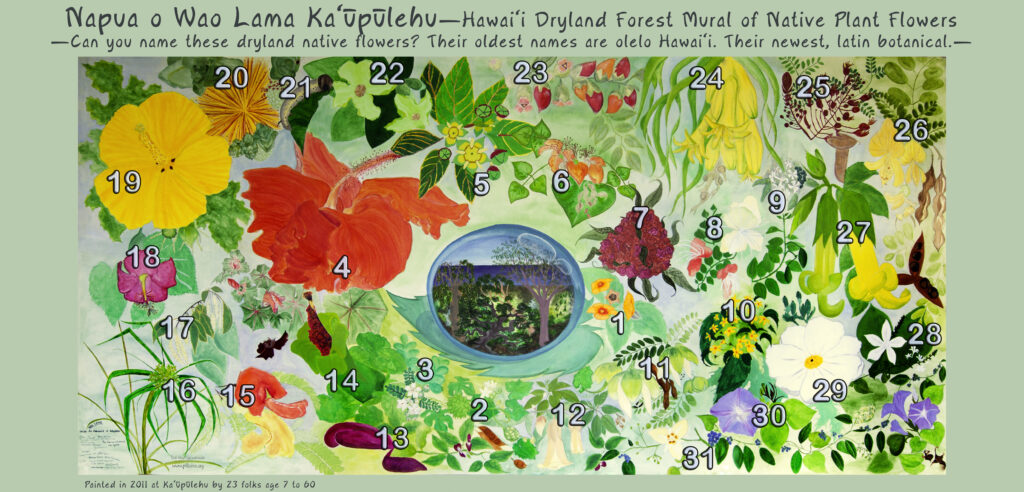 Native Flowers: Napua o Wao Lama o Kekaha—has evolved into several versions and multiple sizes from mini banners, canvas bags, to postcard resources. It was originally an 5' x 10' canvas mural painted by Ka'ūpūlehu dryland forest and mauka makai hui mālama `āina (stewardship group) ages 7 to 60. This group included kama'āina, lineal descendants, community members, educators, scientists, botanists, and ecologists. A smaller version of the mural has become an essential learning tool in the forest. It is offered here digitally with a few suggested activities as a way to bring the forest to you. This mural does not include all dryland flowers, but it does have many of the flowers of the Ka`ūpūlehu and Kekaha Kona drylands forests. This learning opportunity is brought to you by the Ho'ola Ka Makana`ā and Hui Mālama Kama`āina programs of HFI, HFIA, KS-Aina Ulu and TryLookInside/'Ōuli Wai Multimedia Education. Enjoy the learning activities listed below the illustration with numbered flowers. Aunty Yvonne and Anakala Keoki Carter developed and shared many of the educational resources and graphics as in-kind non-exclusive contributions to expand appreciation and care for native plant communities both on this website and drylandforest.org.
Download Activity For DESKTOP Pua mural. This Can be Downloaded & printed. Then cut individual blocks and use as a game, taking turns setting correct name on the Plant number.
Download Activity For Pua Resource Card, and Mini to large mural. This Can be Downloaded & printed. Teachers and others may request the Answer key by using the Contact form.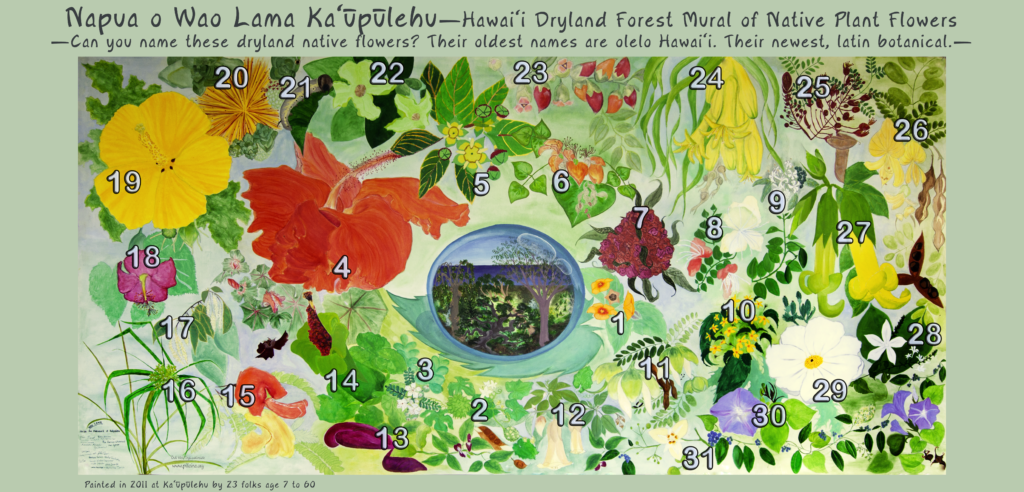 Games, puzzles and ways to use "Napua"
Native names.
Native plants of these islands were first given names by itʻs early people—the Kanaka maoli (Hawaiians). Match the number on the flower to the Hawaiian name of the plant. Write the Hawaiian name of the plant next to the correct number on a piece of paper. It might help to learn if itʻs a tree, shrub, or vine. (Note: The flowers are not drawn to scale. Some flowers such as the one on the vine numbered 31, are extremely small in real life, much smaller than the berry or fruit that forms, and difficult to see. Flowers are enlarged here to show their form and beauty.) : Clues to Mural Plants (Mahalo to the Nahelehe drylandforest.org website that Ka'ūpūlehu HFIA, Aunty Yvonne and Uncle Keoki partnered with to share these activities they developed)

Name the vines.
If you don't have time to identify all the flowers, name the vines that are painted at the bottom of the mural. See if you can name the vines numbered 2, 13, 31 and 30.

Vine bonus question.
Vine number 12 is an endangered vine and its first name has been forgotten to date; can you find its Latin botanical name? Clue: It's in the Koali or Morning glory family

More than one name.
Sometimes Hawaiians gave more than one name to the same plant depending upon its use; line of learning, or regional differences. We have listed the most commonly used Hawaiian names from Hawai`i island. For example: Lama is the most commonly used name for an extremely slow growing and revered tree. However, kupuna (elders) of the North Kona, Pu`u Wa`awa`a region refer to this tree as Ēlama. See if you can find the flower and fruits of this tree on the mural.

Endangered Species.
Part One. What does it mean to have a plant on the "endangered species list"? Use the following link to learn what it means to be on the "endangered species list": Endangered Species Part Two. Some of the flowers on the mural are "endangered species". See if you can name any of these endangered Hawaiian plants on the mural from left to right: 19, 22, 24, 4, 5, 25. Note: Less than 10% of the dryland forest in Hawaiʻi remains and so the entire ecosystem is at risk of disappearing. It is important to focus and care for the wellness of all the native plants of the dryland forest ʻohana and the interconnected ʻāina: the land, waters, skies, and other living species.
Latin botanical names.
Latin botanical names may be relatively new names on a tree timeline and to ancient plants, but they have become a way many people of different languages to speak a botanical language in common. Several times people from other polynesian countries and languages came to Ka'ūpūlehu. While we didnʻt speak the same language, we found we could share latin plant family names. How surprising and exciting to learn of dryland plant cousins in South America, or Oceania countries. We learned it can be so useful to know both native botanical names and latin botanical names. You may too!

About these learning resources :
Napua o Wao Lama Ka'ūpūlehu—Dryland Forest Mural—Native Plants Flowers
The Project Beginning: The original mural used in several learning resources, first began with an invitation to participate in a statewide event to paint 16-murals celebrating the land and the United Nation's "International Year of the Forest" from the mountain to the sea. The Ka'ūpūlehu dryland forest project, Ho'ola Ka Makana'ā agreed to paint a mural representing the dryland forest, and in turn invited partners from Ka'ūpūlehu mauka to makai to hui (gather together) to express through art, their aloha and dedication to the legacy of these rare natives. The mural hui included 23 painters from age 7 to 60.
MURAL PROJECT CREDITS:

Mahalo to: Leah Ingram and Pua Heron-Whitehead for their mural drawings and design, that set the foundation for painting; and TryLookInside for designing and donating artwork for two, body-safe decals (temporary tattoos) shown in the band above for use in the field as a learning supplement to the mural. Shown are the extremely rare and endangered Wahine noho kula from the Kekaha region once thought to be extinct—also named Aupaka, and the Koki'o from Ka'ūpūlehu—also named Hau hele 'ula.

The Painters hui: Ka'ūpūlehu, Ho'ola Ka Makana'ā, forest site team & extended 'ohana, Kalaemano Cultural Center Keakealani 'ohana, Duarte cabin 'ohana, Kukuiohiwai
Springer 'ohana, USDA-FS, Kamehameha Schools-LAD, Hui La'au Kama'āina.
Design, artwork, coordination, & mural completion: Ka'ūpūlehu forest
program interns Leah Ingram and Pua Herron-Whitehead.
Mural Concept, Guidance & Direction: Outreach, Yvonne Yarber Carter
Mural admin & financial support: Primary funding support, Hawaii Forest
Industry Association (HFIA), Kamehameha Schools-'Āina Ulu, donors and in-kind partners.