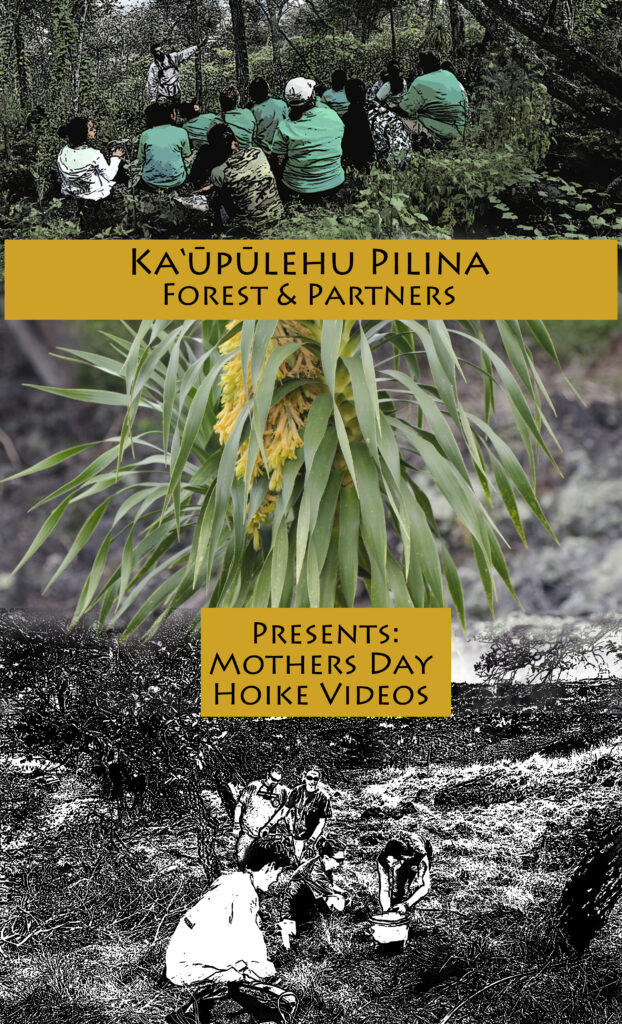 Apokolani (the band)

Ku'ulei Keakealani (the MC)
Ka'ea & Sage (oli, mo"olelo, hula "raw & real")
Leilā Melanie Dudley (hula with Apokolani)
Kumu Kuwalu Nicole Anakalea & halau Waikā Unu
Richard Russell (guest musician honoring motherʻs connections through generations in "Nanaʻs Song")
Precious keiki debut (including a few sweet surprises like toddler Makahanaloa)
Mahalo:
To our oldest mother–Mother Earth
To our communities and families of Kohala and Kona, Hawai'i island who shared this day. And to those elsewhere—this page offers a way to view videos at home.
To Uncle Keoki and Aunty Yvonne for lifting up, creative honoring of place and ancestors as vital to community and kinship to place by people of many origins, shores, winds and waters. Mahalo for creating this website and dedicating efforts to planting seeds of creativity, encouraging respect and perpetuation of the wisdom of 'āina.
To the gifted, overworked and dedicated creatives & teachers on these videos and the many behind the scenes, who still find ways to share, rejuvenate and transcend—often with sleep deprivation— through heart, healthy living and living arts.
To the team capturing these precious and spontaneous moments of sharing: Jared Terpek, and Ari Bernstein, video engineers and teachers at Gates Performing Arts Center (GPAC). Support: Brannigan & Nick Freitas.
To the sponsors listed on the previous page. And to HPA for welcoming, expanding and supporting community—many stepping on campus for the first time.
Pre-program began with videos about Ka'ūpūlehu also on this website.

FIRST HALF
Opening: Ka'ea & Sage
&
Mo'olelo—Stories: Oli, Hula, Song, Movement, Laughter and tears all tell a story and relationship to place.
"Stories" by Ku'ulei Keakealani of Ka'ūpūlehu Kekaha & Kohala
Original Mele: 'Ōhi'a Lehua" by "Apokolani": Musicians: Keoki Apokolani Carter, Yvonne Yarber Carter, Paul Lindbergh, Sonny Lim.
Hula: Leilā Melanie Dudley
Songs of place are 'āina mele. "Ka Āina Kakou" seemed to come right out of the waters, air, sun, sounds and energy of a beautiful place in the Wai'anae Mountains. Like many of these songs–rhythm, a unique heart beat of place. Music and words, all at once flowing like a stream.
Another 'āina song of our times by Apokolani. "Fallin Rain". The planet talks to us, if only more "leaders" would listen and lead for the common good.
Next: Waikā Unu halau, Kumu Kuwalu Anakalea with Healohamele Genovia and Lanakila Manguil introduce keiki hula public debut followed by offerings by her adult halau. Another original from Keoki Apokolani Carter, "Listen to Her Heartbeat". Followed by hula ma'i by Waikā Unu. See chapter markings for sections.
DEBUT of MAKANI O KA'ŪPŪLEHU. A collaboration of Apokolani & kumu Kuwalu Anakaleaʻs halau Waikā Unu of Kohala.
Please Note: If sound and picture is out of sync—try another web browser. Trying to troubleshoot. Safari seems to work for Ka Makani.
"Mamma Mamma" Ending First Half. First a talk about substitute woods & making instruments. Followed by a song as meaningful today as when it came in 1970. Again Keoki Apokolani Carter, guitar; Paul Lindbergh, saxaphone; Sonny Lim on Bass.
Mahalo nui to Sonny who graciously played for community and ohana, but quietly took his leave after this song for his regular commitment gig at the shoreline.
SECOND HALF
Intro by Ku'ulei to Ka'ūpūlehu ohana not on stage—trailblazers, restorers and educational programs.
"Nanaʻs Song" by Richard Russell and lyrics by Jileen Russell, conveys timeless love and the tender, sacred connections between generations.
Kuulei Journal Entry: "Remember and Imagine", landscape memories.
Hula and songs of this land. Again, lovely, Leilā Dudley does hula to songs birthed in Kohala by Keoki Apokolani Carter.
Ka'ea Lyons self-described as "Raw and Real". So true. We laughed, cried, and learned—heartfelt. Pilina. Mahalo Sage for your blessed presence and rascal sparkle! And mahalo Jaz the roadie!